Below are a list and bios of the members of OneWorld Classrooms' Board of Directors.
Our board is a diversely talented group of professionals from the Boston area dedicated to the pursuit of our mission. Please scroll down for bios.
Raj Dandage, President Founder and Executive Director of RSDI LLC
Yves Salomon-Fernandez, Ph.D.,, Vice-President and Governance Committee Chair Dean of Institutional Planning, Research and Assessment at MassBay Community College, Boston
Reese Williams, Treasurer Economic and Statistical Analysis Consultant, MassBay Community College
Priya Linson, Programs Committee Chair, Boston Director, Stand for Children
Zela Astarjian, Marketing Committee Co-chair Consultant, RhumbLine Advisers, Boston
Timothy Dodd, Marketing Committee Co-chair Eighth Grade English Teacher, Ayre Public Schools, Ayre, MA
Tomasz Kierul, Fundraising Committee Chair, Director of Development, The Assumptionists
Veerendra Virkar, Interim Programs Coordinator Chair Research Analyst, Financial Research Corporation
Nate Leung MBA Student , Harvard Business School
=======================================================================================
BOARD MEMBER BIOS
Raj Dandage
A son of two Indian immigrants, Raj Dandage has a deep understanding of the importance of learning about other cultures. He loves to travel and experience new places. He also understands the importance of education, having served as co-founder of web-based learning company Cognate Technologies and later as a founding board member of the American Disaster Preparedness Foundation. Raj is interested in utilizing his background in technology to further the mission of the organization by allowing students around the world to communicate more effectively.
Yves Salomon-Fernandez, Ph.D.
Having grown up outside of the United States, Yves brings rich lived experiences and perspectives to the Board of OneWorld Classrooms. She is a passionate advocate for nurturing a sense of global awareness and cultural competence in children at a very young age. As an educator, Yves is a strong proponent of using the arts to tap into students' multiple intelligences and helping make connections with other academic subjects like mathematics.
Yves is fluent in French, Spanish, English, and Haitian Creole. She has lived in or traveled to 18 countries. Yves is Dean of Institutional Planning, Research, and Assessment at MassBay Community College in Wellesley, MA. She previously worked with the Massachusetts Department of Education on projects related to MCAS, assessment, and accountability. She has also consulted with the Bermuda Ministry of Education in the past.
Reese Williams

A long-time student and teacher of music, Reese considers himself a strong supporter of the arts. OneWorld Classrooms' commitment to connecting students of various backgrounds and cultures through the arts is what originally attracted him to the organization. Reese is an Economic and Statistical Analysis Consultant with MassBay Community College. He brings with him a wide range of financial experience as he joins OneWorld Classrooms, having worked in a financial capacity with both major private and public organizations, most recently as Financial Crimes Investigator for Massachusetts Attorney General, Martha Coakley.
Priya Linson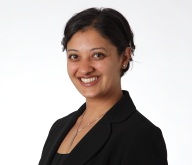 Born and raised in the Midwest, Priya has spent the past 10 years working with schools and organizations that focus on improving educational outcomes for urban students. After receiving her degree in Child Development from Tufts University and an Master of Arts in Education from Columbia University's Teachers College, Priya spent three years teaching at The Bronx Guild, a Big Picture Learning school in the South Bronx, one of the nation's most underserved communities. She went on to serve as the school leader for South Hills Academy, run through Communities In Schools of Pittsburgh-Allegheny County, while receiving her Master of Public Management from Carnegie Mellon University's Heinz College of Public Policy & Management. Priya returned to Massachusetts to serve as the Greater Boston Area Program Director for Education Pioneers, and was part of an instrumental period of growth where the Boston programs nearly doubled in size, increasing the capacity of Boston's top education organizations. Currently, Priya serves as the Boston Director for Stand for Children, a national non-profit that brings together parents, teachers, and community members to serve as the voice of children on education reform issues.
Priya currently lives in Natick, MA with her husband and son.
Zela Astarjian

Zela considers herself a citizen of the world, having grown up in the Middle East, studied in Paris France and finally settling in Boston after teaching French at the University of Kansas. Zela speaks five languages (English, French,Armenian, Arabic, and some Turkish) and works to impart the importance of global connections to people


around her. Zela works for RhumbLine Advisers, an Institutional money management firm in Boston, and is involved in One World Classrooms because she believes in the value of art and culture in the lives of children and wants to reinforce to them the importance of global contacts.
Timothy Dodd
Tim Dodd is a life-long resident of Massachusetts who has a passion for hands-on learning and public education. The son of a public school teacher, Tim studied political science and history at American University in Washington, DC, where he interned at The White House and U.S. House of Representatives. Upon earning his degree, he returned to Massachusetts, where he decided to pursue a career in education. After earning an M.A. in American History from Providence College, Tim became a certified teacher and since 2006 has been a middle school English and history teacher in Massachusetts. He is passionate about creating hands-on activities, and has developed several after school programs, received 6 grants, and actively uses a SMART Board and other technological tools in his instruction.
Tim also has a strong interest in travel and in public service. As an undergraduate, Tim spent a semester living in South Africa, a unique experience he has worked to bring to life in his classroom. Last summer Tim participated in a program for teachers in Wyoming, Colorado, and Montana, and this summer he will be traveling across the country on a train.
Since 2007, Tim has also served his community as a member of the Westborough Board of Selectmen. In this capacity, he has worked hard to initiate programs to improve relationships between the town and the residents of Westborough. During this time, Tim also furthered his education and earned a Doctorate in Law and Policy from Northeastern University in October, 2011. In his free time, Tim enjoys kayaking, sailing, skiing and reading.
Veerendra Virkar
Having grown up in an emerging economy, Veerendra understands and values different perspectives. He has worked in India, Europe and currently works in the U.S. for Financial Research Corporation as a research analyst. While working for his previous employer, Tata Consultancy Services in India, Veerendra was involved in experiential learning for kids. For example, he coordinated an event taking kids to forts on mountain tops to experience history at the actual location. Observing the impact of such learning through feedback motivated him about the effectiveness of such efforts.
Veerendra has a passion for education, kids and technology and feels that exposing children to different perspectives through art forms improves their overall growth and understanding of the world around them. This makes them better citizens of the world and the world becomes a better place to live. He also feels that use of technology to bring children together can be continuously improved and allows children to make friends with other children in different countries.
Nate Leung
Nate joined the OneWorld Classrooms' Board of Directors in 2009. Nate discovered his passion for promoting global citizenship through education when he served as a teacher in rural China, where his family's roots are.

As a professional investor and advisor to young, growing organizations at Bain Capital Ventures, Nate brings expertise in financial and strategic matters.