You may also organize a fundraiser and send your contribution later. When you submit the form, you will automatically receive an Email with information and fundraising tips.
If you do a fundraiser for an overseas partner school that we have matched you with, you may send your contribution to OneWorld Classrooms or directly to our Project Liaison at the partner school. We will send you instructions and contact information via E-mail.
MORE INFORMATION
LENDING A HELPING HAND
By joining our Make a Difference! program, you can help us to make the world a little smaller and a little better.
YOUR CONTRIBUTION AT WORK Since 2002, we have used Make a Difference! contributions to purchase art materials, bookmaking equipment, TVs, computers and books for overseas partner schools. Currently, we are also providing a scholarship to a talented student from a remote village we work with in the Ecuadorian Amazon. The scholarship will allow the student to attend a teacher training school so he will be able to return to his village as a teacher. Recently, contributions have been
used to purchase art materials so schools can complete art exchanges, purchase a Namibian partner school's first audiovisual equipment and paint the outside of all of the classrooms at an Amazon Rain Forest partner school with educational murals.
SOME OF THE SCHOOLS WE ASSIST Here is a sampling of schools we have helped and will continue to aid through our Make a Difference! program.
Sangke Tibetan Elementary School, Gansu Province, China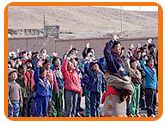 Located in a remote region on the mountains of the Tibetan Plateau, the Sangke Tibetan Elementary School is a boarding school founded by the local government for children of nomadic Tibetan families. The school has limited resources but eager and talented students. We help them by purchasing art supplies.

Victor Davalos Elementary School, Playas de Cuyabeno, Ecuadorian Amazon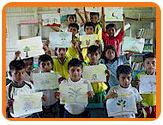 Victor Davalos Elementary is a six-hour motorized canoe ride down the Agua Rico River from the nearest road. The school has nine grades, five teachers, five classrooms and 75 students. We have worked with the school for three years and are very impressed with how serious the community and the teachers are about giving their children a good education. In 2004, Germantown Academy in Fort Washington, PA, donated a computer to the school and we trained the teachers on it for two weeks so they could use it with their students after we left. A second donation from Germantown is sending Guillermo Machoa, the school's brightest ninth grader, to a high school/teacher training college in another rain forest town. (Victor Davolos only goes up to ninth grade and Guillermo would otherwise not be able to continue his education.) In future years, we'd like to help Victor Davalos Elementary with more classroom technology, art supplies, books and more scholarships.
Mokaleng Combined Roman Catholic School, Namibia, Africa
While Mokaleng performs well academically, despite it's remote location in the Kalahari, it makes the desert spring to exuberant life with its exceptional vocal and dance performances. We have helped this school with art materials and computer training in the past; but in the future we would like to shift our focus to meet the needs of their Culture Club, which is in urgent need of new traditional clothes and percussion instruments for their dance performances. We would also like to help the school travel with their performers to other partner schools in the country so they can share their remarkable talent.
Jinha Elementary School, Xishuangbanna, China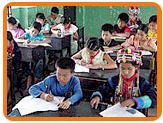 Jinha is a small town along the Mekong River in the rain forest of the Xishuangbanna Dai Autonomous Region, Yunnan Province, China. This school's students are mainly of the Dai and Hani ethnicities. Lacking art materials, the students only use black pencils for drawing. We would like to help the school by purchasing art materials.
Hanganeni Primary School, Swakopmund, Namibia
Hanganeni is a brand new school in the D.R.C. Location of Swakopmund, a small city on the coast of Namibia, where the Namib Desert and the Pacific Ocean meet. The D.R.C., which consists mainly of pieced-together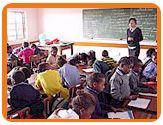 houses made of tin, wood, bricks and cardboard, sprung up on the outskirts of town as many Namibians moved to Swakopmund in search of work in nearby uranium mines. We found the students very eager to learn, despite their lack of resources. We would like to help the school with art materials and computer equipment.
LEARN MORE ABOUT OUR OVERSEAS PARTNER SCHOOLS
ACKNOWLEDGMENT FOR YOUR CONTRIBUTION For all donations of $100 or more, the donor will receive an official OneWorld Classrooms Make a Difference! Certificate, acknowledging your contribution and listing the name of your partner school and information about how your contribution was used at your partner school.